Meeting abstracts

Open Access
31st Annual Meeting and Associated Programs of the Society for Immunotherapy of Cancer (SITC 2016): part one
National Harbor, MD, USA. 9-13 November 2016
Journal for ImmunoTherapy of Cancer
2016
4(Suppl 1):82
Published: 16 November 2016
Adoptive Cellular Therapy
O1 IL-15 primes an mTOR-regulated gene-expression program to prolong anti-tumor capacity of human natural killer cells
Andreas Lundqvist1, Vincent van Hoef1, Xiaonan Zhang1, Erik Wennerberg2, Julie Lorent1, Kristina Witt1, Laia Masvidal Sanz1, Shuo Liang1, Shannon Murray3, Ola Larsson1, Rolf Kiessling1, Yumeng Mao1
1Karolinska Institutet, Stockholm, Stockholms Lan, Sweden; 2Weill Cornell Medical College, New York, NY, USA; 3Nova Southeastern University, Cell Therapy Institute, Fort Lauderdale, FL, USA
Correspondence: Andreas Lundqvist (andreas.lundqvist@ki.se)
Background
NK cell-based immunotherapy is a potential therapeutic modality in patients with advanced cancers as transfer of haploidentical NK cells induces beneficial responses in patients with hematological malignancies; and leukemia clearance correlates with persistence and in vivo expansion of NK cells after infusion. Thus, sustained NK cell activity in vivo likely represents a therapy performance-limiting factor.
Methods
We performed genome-wide analysis of cytosolic and polysome-associated mRNA from interleukin (IL)-2 and IL-15 activated NK cells. Furthermore, the ability of IL-2 and IL-15 to sustain human NK cell activity following cytokine withdrawal as well as their effect on NK cells to resist tumor-induced immunosuppression was compared.
Results
After cytokine withdrawal, IL-15-treated NK cells maintained a higher level of cytotoxicity (p < 0.05) and showed lower levels of apoptosis (p < 0.05) compared with cells treated with IL-2. IL-15 augmented mTOR signaling, which correlated with increased expression of genes related to cell metabolism and respiration. Consistently, mTOR inhibition abrogated IL-15-induced cell function advantages. Moreover, mTOR-independent STAT-5 signaling contributed to improved NK cell function during cytokine activation but not following cytokine withdrawal. Upon co-culture with tumor cells or exposure to tumor cell supernatant, IL-15 activated NK cell maintained a significantly higher level of proliferation and cytotoxic activity (p < 0.05). Mechanistically, tumor-derived prostaglandin-E2 suppressed IL-2 cultured NK cells while IL-15 cultured NK cells remained activated. The superior performance of IL-15 stimulated NK cells was also observed using a clinically applicable protocol for NK cell expansion in vitro and in vivo.
Conclusions
This study adds to our understanding about establishment and maintenance of tumor-reactive NK cells and supports clinical implementation of IL-15 for adoptive NK cell therapy. More broadly, our studies suggest that a large aspect of cytokine-mediated gene expression programs and downstream cellular functions, including anti-tumor capacity, are overlooked if post-activation conditions are omitted. This is likely not limited to NK cells and should hence be considered in similar studies of other immune cells.
Biomarkers and Immune Monitoring
O2 ImmunoMap: a novel bioinformatics tool for analysis of T cell receptor repertoire data in model systems and clinical settings
John-William Sidhom1, Catherine A Bessell2, Jonathan Havel3, Jonathan Schneck4, Timothy A Chan3, Eliot Sachsenmeier5
1Johns Hopkins University School of Medicine, Baltimore, MD, USA; 2Immunology Program, Johns Hopkins University, School of Medicine, Columbia, MD, USA; 3Memorial Sloan Kettering Cancer Center, New York, NY, USA; 4Johns Hopkins Medical Institute, Baltimore, MD, USA; 5University of Rochester, Monrovia, MD, USA
Correspondence: John-William Sidhom (jsidhom1@jhmi.edu)
Background
There has been a dramatic increase in T cell receptor (TCR) sequencing spurred, in part, by the widespread adoption of this technology across academic medical centers and by the rapid commercialization of TCR sequencing. While the raw TCR sequencing data has increased, there has been little in the way of approaches to parse the data in a biologically meaningful fashion. The ability to parse this new type of 'big data' quickly and efficiently to understand the T cell repertoire in a structurally relevant manner has the potential to open the way to new discoveries about how the immune system is able to respond to insults such as cancer and infectious diseases.
Methods
Here we describe a novel method utilizing phylogenetic and sequencing analysis to visualize and quantify TCR repertoire diversity. To demonstrate the utility of the approach, we have applied it to understanding the shaping of the CD8 T Cell response to self (Kb-TRP2) and foreign (Kb-SIY) antigens in naïve and tumor bearing B6 mice. Additionally, this method was applied to tumor infiltrating lymphocytes (TIL's) from patients undergoing Nivolumab (anti-PD-1) therapy in a clinical trial for metastatic melanoma to understand TCR repertoire characteristics between responders and non-responders.
Results
Analysis of the naïve CD8 response to SIY showed a lower clonality yet more closely structurally related response whereas CD8 responses to TRP2 were highly clonal yet less structurally related. Presence of tumor exhibited interesting differential effects on SIY vs. TRP2. We believe that differences in TCR repertoire suggest effects from central and peripheral tolerance on self vs. foreign antigens. In clinical trial data, the phylogenetic analysis revealed unique TCR repertoire signatures that differentiated responders from non-responders to anti-PD-1 therapy, including some that could be detected prior to initiation of therapy. Additionally, this analysis revealed that patients whose CD8 response had a larger contribution from novel and unique structural clones responded better to therapy.
Conclusions
In summary, we have developed and demonstrated a novel method to meaningfully parse and interpret TCR repertoire data and have applied it to yield a novel understanding of CD8 T Cell responses to different types of antigens as well as key characteristics in those who respond to anti-PD-1 therapy.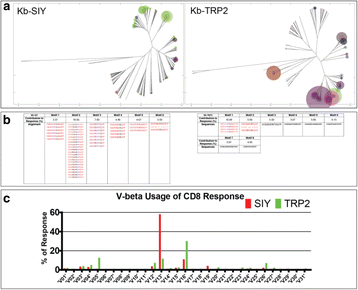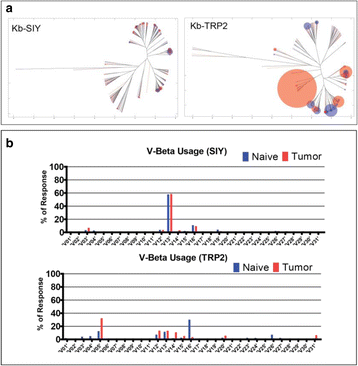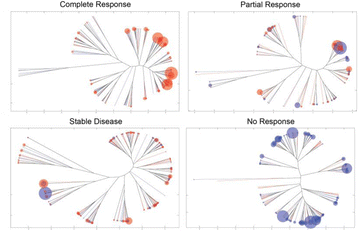 O3 Increased STAT3 signaling and decreased suppressive function of regulatory T cells are biomarkers of positive patient outcome to nivolumab therapy
David Woods1, Anders Berglund2, Rupal Ramakrishnan2, Andressa Sodre1, Jeffrey Weber1
1NYU Langone Medical Center, New York, NY, USA; 2H. Lee Moffitt Cancer Center, Tampa, FL, USA
Correspondence: David Woods (david.woods@nyumc.org)
Background
Antibody-mediated blockade of the inhibitory receptor PD-1 on T cells has shown clinical efficacy in the treatment of various malignancies. However, biomarkers of response and mechanisms of resistance remain largely unidentified. To address this gap, we sought to identify the role(s) of regulatory T cells (Tregs) in metastatic melanoma patients treated with the PD-1 antibody nivolumab.
Methods
Pre and post-treatment Tregs were isolated from the peripheral blood of surgically resected stage III/IV metastatic melanoma patients treated with adjuvant nivolumab. Suppressive capacity was assessed in an allogeneic mixed lymphocyte reaction. Paired (pre vs. post-treatment) Tregs were assessed by flow cytometry for phosphorylated STAT3 (pSTAT3) expression. Finally, paired Treg samples were assessed for gene expression by RNA-sequencing.
Results
Tregs from non-relapsing patients demonstrated a significant decrease in suppressive capacity post-treatment (p < 0.05). However, suppressive capacity in relapsing patients did not decrease and their Tregs were significantly more suppressive post-treatment relative to non-relapsers (p < 0.01). Significantly increased levels of pSTAT3 post treatment were observed in non-relapsers (p < 0.05) but not in relapsers (p < 0.40). Significantly increased pSTAT3 was not seen in conventional T cells after nivolumab therapy. Culturing treatment-naïve T cells with PD-1 blocking antibodies in vitro resulted in increased levels of pSTAT3 in Tregs compared to IgG controls (p < 0.01). In vitro PD-1 blockade also significantly increased the number of Tregs (p < 0.01), and significant increases were seen in paired patient samples (p < 0.05). Paired analysis of Treg RNA-seq data using Panther and GeneGo. Metacore showed several significantly increased pathways associated with proliferation in non-relapsers. Changes in these pathways were absent in relapsers. Gene Set Enrichment Analysis of non-relapser Tregs showed significant (q=8.2e-18) overlap with known STAT3 target genes. Conversely, Enrichr analysis of relapsers showed significant upregulation of STAT1 and STAT2 target genes. No overlap of significantly changed gene expression or pathways in Tregs vs. conventional CD4+ T cells were observed.
Conclusions
These results highlight the potential importance of Tregs in mediating benefit with PD-1 blockade, demonstrating pSTAT3 induction and reduced suppressive capacity as biomarkers of clinical benefit. PD-1 blockade also increased the percentages of Tregs, consistent with the known roles of STAT3 in promoting cell survival and proliferation. RNA-seq data demonstrated increased STAT3 and proliferation associated gene expression. Intriguingly, Tregs from relapsing patients had increased expression of genes associated with STAT1/2 signaling, warranting further investigation of these pathways. In addition to highlighting STAT signaling as a biomarker of relapse, these results demonstrate distinct differences in the impact of PD-1 blockade in Treg vs. conventional T cells.
O4 Analysis of pharmacodynamic biomarkers in the first in-human trial of GITR co-stimulation with the agonist antibody TRX-518 in advanced solid cancer patients
Roberta Zappasodi1, Yanyun Li1, Jingjing Qi2, Philip Wong2, Cynthia Sirard3, Michael Postow4, Walter Newman3, Henry Koon5, Vamsidhar Velcheti6, Margaret K Callahan7, Jedd D Wolchok4, Taha Merghoub1
1Ludwig Collaborative Laboratory, Memorial Sloan Kettering Cancer Center, New York, NY, USA; 2Immune Monitoring Core Facility, Memorial Sloan Kettering Cancer Center, New York, NY, USA; 3Leap Therapeutics, Cambridge, MA, USA; 4Department of Medicine, Memorial Sloan Kettering Cancer Center, New York, NY, USA; 5Case Western Reserve University, Cleveland, OH, USA; 6Cleveland Clinic Main Campus, Cleveland, OH, USA; 7Memorial Sloan Kettering Cancer Center, New York, NY, USA
Correspondence: Roberta Zappasodi (zappasor@mskcc.org)
Background
GITR is a tumor necrosis factor receptor expressed at high levels on regulatory T cells (Tregs) and up-regulated on T cells upon activation. GITR stimulation abrogates Treg suppression and enhances T cell effector function. These observations suggest that GITR could be an attractive target for immunotherapy with agonist antibodies. GITR stimulation in tumor-bearing mice has shown therapeutic activity associated with both Treg reduction and modulation. Here we report results of pharmacodynamic analyses in the first in-human phase I trial with the fully humanized agonist anti-GITR antibody TRX518 as monotherapy in patients with advanced refractory solid tumors.
Methods
Patients were accrued to 9 cohorts (up to 6 patients/cohort) to receive a single dose of TRX518 (dose range: 0.0001-8 mg/kg). Pharmacodynamic analyses included flow cytometric evaluation of frequency and phenotype of circulating T cells and cytokine quantification in serum samples at different time points up to 12 weeks after treatment. Relevant changes observed with these analyses were monitored in pre- and post-treatment tumor biopsies by immunofluorescence staining.
Results
Here we report results obtained in 37 patients treated with ≥0.005 mg/kg TRX518 (cohorts 3-9), including 6 melanoma, 7 non-small cell lung cancer (NSCLC) and 7 colorectal cancer (CRC) patients and 17 patients with 11 other solid tumors. Among the T cell parameters analyzed, we found frequent reduction in circulating Tregs after treatment with TRX518 across all cohorts, with some exceptions. Importantly, this effect could be maintained over the 12-week observation period. When the analysis was performed by disease type, it revealed a pronounced TRX518 dose-dependent down-regulation of peripheral Tregs in both melanoma and CRC patients. Interestingly, in NSCLC cancer patients, Tregs did not always decrease after treatment. In a subset of patients (n=6; 2 melanoma, 2 CRC, 2 lung), for whom we had pre- and post-treatment tumor biopsies in addition to PBMCs, we tested whether intra-tumor Tregs were consistently affected. In melanoma and CRC patients, intra-tumor Foxp3+ Tregs were significantly reduced after treatment, in agreement with the peripheral Treg down-modulation observed in the same patients. In lung cancer patients, lack of circulating Treg reduction was consistently associated with stable or increased intra-tumor Treg infiltration after TRX518.
Conclusions
Circulating Treg reduction is a potential pharmacodynamic biomarker of TRX518 biological activity. This parameter may allow predictive correlation with changes in intratumoral Treg infiltration. We plan to further investigate this effect and its relevance for the association with clinical responses in our recently opened TRX518 multi-dose study.
Trial Registration
ClinicalTrials.gov identifier NCT01239134.
Consent
Written informed consent was obtained from the patient for publication of this abstract and any accompanying images. A copy of the written consent is available for review by the Editor of this journal.
Bispecific Antibodies
O5 Clinical responses in advanced pancreatic patients treated with bispecific antibody armed T cells (BATS)
Lawrence G. Lum1, Minsig Choi2, Archana Thakur1, Abhinav Deol3, Gregory Dyson3, Anthony Shields3
1University of Virginia Cancer Center, Charlottesville, VA, USA; 2Stony Brook University Medical Center, Stony Brook, NY, USA; 3Karmanos Cancer Institute, Detroit, MI, USA
Correspondence: Lawrence G. Lum (lgl4f@virginia.edu)
Background
Conventional chemotherapy (chemo) for locally advanced pancreatic cancer (LAPC) and metastatic pancreatic cancer (PC) is associated with dismal responses and poor survival rates. Arming activated T cells (ATC) with anti-CD3 x anti-EGFR bispecific antibody (EGFRBi) turns every ATC into a non-MHC restricted EGFR-specific cytotoxic T lymphocyte [1]. Engagement of CD3 on T cells and EGFR on Mia PACA-2 leads to cytokine secretion, proliferation, cytotoxicity by ATC and inhibition of tumor growth [2]. An earlier study using Infusions of anti-CD3 x anti-HER2 (HER2Bi) armed ATC in metastatic breast cancer provided encouraging survival (OS = 36 months) and evidence of anti-breast cancer immunity [3].