Rational combinations of immunotherapeutics that target discrete pathways
Journal for ImmunoTherapy of Cancer
2013
1:16
Received: 20 June 2013
Accepted: 12 September 2013
Published: 23 September 2013
Abstract
An effective anti-tumor immune response requires the coordinated action of the innate and adaptive phases of the immune system. Critical processes include the activation of dendritic cells to present antigens, produce cytokines including type I interferons, and express multiple costimulatory ligands; induction of a productive T cell response within lymph nodes; migration of activated T cells to the tumor microenvironment in response to chemokines and homing receptor expression; and having effector T cells gain access to antigen-expressing tumor cells and maintain sufficient functionality to destroy them. However, tumors can become adept at escaping the immune response, developing multiple mechanisms to disrupt key processes. In general, tumors can be assigned into two different, major groups depending on whether the tumor there is an 'inflamed' or 'non-inflamed' tumor microenvironment. Improvements in our understanding of the interactions between the immune system and cancer have resulted in the development of various strategies to improve the immune-mediated control of tumors in both sub-groups. Categories of major immunotherapeutic intervention include methods to increase the frequency of tumor antigen-specific effector T cells in the circulation, strategies to block or uncouple a range of immune suppressive mechanisms within the tumor microenvironment, and tactics to induce de novo immune inflammation within the tumor microenvironment. The latter may be particularly important for eliciting immune recognition of non-inflamed tumor phenotypes. The premise put forth in this review is that synergistic therapeutic effects in vivo may be derived from combination therapies taken from distinct "bins" based on these mechanisms of action. Early data in both preclinical and some clinical studies provide support for this model. We also suggest that optimal application of these combinations may be aided by appropriate patient selection based on predictive biomarkers.
Keywords
Cancer
Immunotherapy
Interferon
PD-1
PD-L1
CTLA-4
Tumor-associated antigen
Indoleamine-2,3,-dioxygenase
Denileukin diftitox
Regulatory T cell
Introduction
With a more detailed understanding of the interactions between the human immune system and cancer, and a larger armamentarium of immunotherapeutic agents in development than ever before, the field of tumor immunotherapy is growing rapidly. Progress will depend upon rational patient selection and logical development and application of these novel therapies, alone or in combination with other treatments. This review summarizes the mechanistic steps involved in the generation and regulation of anti-tumor immune responses, considers discrete categories of immunotherapies based upon type and temporal − spatial aspects of the biologic step being regulated, describes opportunities for selection of patients most likely to benefit from immunotherapy, and suggests immunotherapy combinations that may be attractive for clinical investigation based on logical subdivisions.
The generation of spontaneous anti-tumor immune responses
Although the theory of immune surveillance remains controversial [1, 2], certain pieces of experimental and observational evidence support its existence. The observation that endogenous interferon gamma (IFN-γ) and also IFN-α/β can contribute to protection against the growth of methylcholanthrene-induced fibrosarcomas implies that IFN signaling plays a key role in the immune protection against murine cancer [2–4]. Furthermore, human cancer incidence is increased in patients who are immunosuppressed or have immunodeficiencies [5–7] compared with healthy hosts. It has also been observed that melanoma and other cancers can be transmitted from organ transplant donors to recipients, once the organ recipient is immunosuppressed [8]. In light of these data, the premise remains that the immune system can contribute to control of cancer development and/or progression. As a tumor does develop, immune sensing and subsequent immune-mediated control passes through multiple physiological phases, each of which is tightly regulated.
The development of an anti-tumor response is a coordinated, multifaceted phenomenon comprising both the innate and adaptive phases of the immune system (Figure
1
). The complex nature of this response, combined with our growing understanding of the process, offers several opportunities for clinical intervention. A brief working model of the generation of an anti-tumor immune response is summarized below.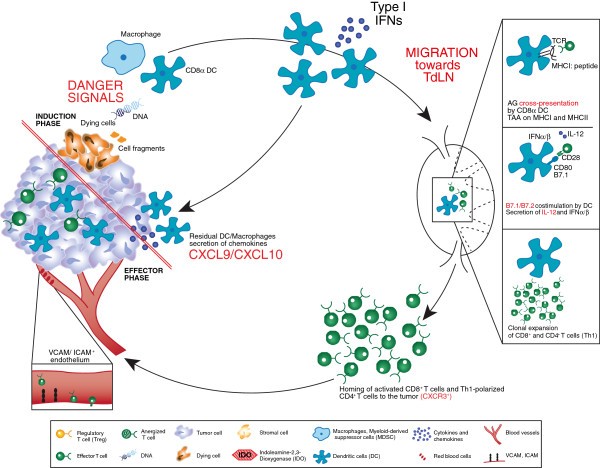 Role of the innate immune system
Currently, it is hypothesized that sensors expressed by innate immune cells (e.g., dendritic cells [DC]) can detect damage-associated molecular recognition elements, likely derived from dying cancer cells that result in productive DC activation. This leads to expression of multiple chemokines that recruit additional cell types, and also upregulates expression of multiple costimulatory ligands and secreted cytokines that promote T cell activation. In the mouse, data suggest that the subset of DCs responsible for cross-presentation of antigen to T cells in a class I major histocompatibility complex (MHC)-restricted fashion is the CD8α+ DC subset [9, 10]. Indeed, Batf3−/− mice that are deficient in this lineage fail to generate a spontaneous anti-tumor T cell response [10, 11]. The phenotype of the corresponding DC subset in humans has recently been elaborated, as defined by the expression of DNGR1 [12], and investigation into the involvement of this DC subset in human tumors is being evaluated. Interestingly, the activation of those DCs depends, at least in part, on the induction of IFN-α/β production in response to a growing tumor [11, 13]. Type I IFN receptor−/− mice, or mice deficient in the downstream signaling molecule Stat1, also fail to prime a spontaneous anti-tumor T cell response [11, 13]. The innate immune sensing pathway, as well as the tumor-derived ligand(s) responsible for type I IFN production, are being elucidated and are topics of active investigation.
Role of the adaptive immune system
Once DCs are properly activated in response to a growing tumor, the induction of productive T cell responses against tumor-associated antigens depends on several molecular elements. Antigen cross-presentation that depends on TAP transporters and class I MHC is critical [14], and recent work has suggested that the receptor Clec9a, highly expressed by CD8α+ DCs, is involved with proper antigen processing [15, 16]. Expression and costimulation by CD80/CD86 by host cells is required [14], as is production of interleukin (IL)-12 [17]. Mice deficient in any of these factors show poor T cell priming and defective immune-mediated tumor control.
At the effector phase of the anti-tumor T cell response, activated T cells must traffic to the tumor microenvironment. This process likely depends on the local production of specific chemokines, such as CXCL9 and CXCL10 [18]. In addition, it is thought that the vascular endothelial cells must be activated and express key homing receptors, such as ICAM-1 and VCAM-1, for T cells to transit into the tumor tissue. Buckanovich and colleagues have identified the endothelin B receptor as one regulator of this process [19]. Evidence suggests that both CD4+ and CD8+ effector cells can participate in the effector phase of the anti-tumor immune response [14, 20]. Once present within the tumor site, activated T cells must maintain their functional properties (cytolytic activity, inflammatory cytokine production, and likely proliferation) and also gain access to individual antigen-expressing tumor cells. Therefore, features of the tumor microenvironment can have a major impact on whether activated T cells can effectively destroy a tumor. Based on this model, it is not difficult to imagine that immune escape by cancers might be attributed to defective T cell trafficking, suppression of T cell function, or physical limitation of access to tumor cells. However, the mechanisms of immune escape might be distinct in different patients with the same cancer and in patients with different cancer histologies.
Conclusions
Mechanisms of tumor immune escape are multiple and can compensate for one another, and preclinical models suggest synergy when two distinct mechanisms are manipulated in concert. It is anticipated that logical doublet combinations in the clinic will impart a meaningful impact on patient outcomes. Different cancer types beyond melanoma may have specific dominant mechanisms of suppression (e.g., B7-H3, B7-H4), and therefore could benefit from unique, tailored immunotherapy combinations. Finally, one of the biggest challenges might be to promote T cell-based inflammation in "non-inflamed" tumors in order to expand the subset of patients in whom currently active immunotherapies appear effective. With a broader arsenal of immunotherapeutic agents and a deeper understanding of tumor-host interactions, clinical tumor immunotherapy is poised to advance significantly. Careful consideration of appropriate patient candidates based on biomarker development and a logical, coordinated application of immunotherapy combinations should accelerate advancement of the field.
Abbreviations
CTLA-4:

Cytotoxic T-lymphocyte antigen 4
DC:

Dendritic cell
EGR2:

Early growth response gene 2
GM-CSF:

Granulocyte-macrophage colony-stimulating factor
ICOS:

Inducible T-cell costimulator
IDO:

Indoleamine-2,3-dioxygenase
IFN:

Interferon
IL:

Interleukin
MDSC:

Myeloid-derived suppressor cells
MHC:

Major histocompatibility complex
PD-1:

Programmed death-1
PD-L1:

Programmed death – ligand 1
TAA:

Tumor-associated antigen
TCR:

T cell receptor
TIL:

Tumor-infiltrating lymphocytes
TLR:

Toll-like receptor
Treg:

Regulatory T cell.
Declarations
Acknowledgments
Work from the authors' laboratory described in this review has been supported by R01CA161005, R01CA127475, R01CA118153, P01CA97296, and the Melanoma Research Alliance. SS is a postdoctoral fellow of the German Research Foundation (DFG). Through the course of this work, the authors have appreciated the technical support of Michael Leung, Michelle Gao, Yuanyuan Zha, and Glee Li, as well as infrastructure support through multiple University of Chicago Comprehensive Cancer Center shared resources (Human Immunologic Monitoring and cGMP facilities, Functional Genomics Facility, Human Tissue Resource, and Flow Cytometry Facility). We thank Cailin Moira Wilke, PhD, at StemScientific, who provided medical writing services and editorial assistance on behalf of Bristol-Myers Squibb.
Authors' Affiliations
(1)
Biological Sciences Division, Pathology, The University of Chicago, Chicago, USA
(2)
Department of Pathology and Department of Medicine, Section of Hematology/Oncology, The University of Chicago, Chicago, USA
Copyright
© Spranger and Gajewski; licensee BioMed Central Ltd. 2013
This article is published under license to BioMed Central Ltd. This is an Open Access article distributed under the terms of the Creative Commons Attribution License (http://creativecommons.org/licenses/by/2.0), which permits unrestricted use, distribution, and reproduction in any medium, provided the original work is properly cited. The Creative Commons Public Domain Dedication waiver (http://creativecommons.org/publicdomain/zero/1.0/) applies to the data made available in this article, unless otherwise stated.